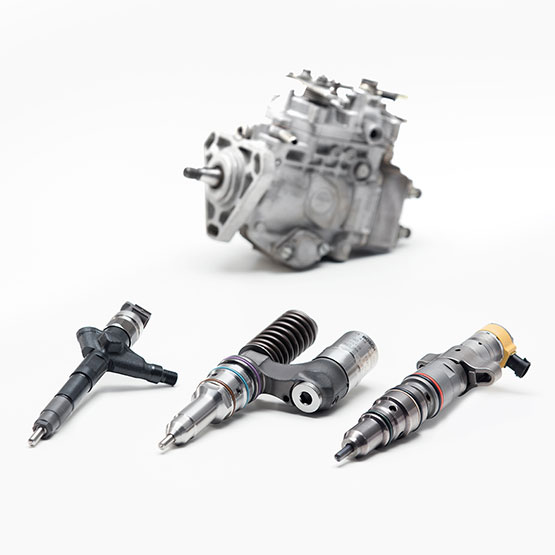 The Revision Division was created in September 2015 to work on the Italian and international markets and offers a repair service for injectors and pumps of modern generation.

The purpose of injector and pump repair is to bring them back to their best working conditions by preserving their performance and keeping fuel consumption as low as possible. Another important aspect of a repaired injector and pump is that it is much more inexpensive than a new component, so it allows remarkable savings.

Our plant has a Bosch test bench with CamBox system and two Bosch EPS 200 test benches, specific for latest generation Common Rail testing. Injectors and pumps are installed on the bench in order to test their efficiency and then we proceed with the repair by removing the used parts and installing new original or non-genuine, high quality components, such as the nozzles. Bench testing grants that our reconditioned product is in accordance with the OE maker in all its parameters. Thanks to the constant technological updating and thanks the our professional staff we can provide complete pre- and after- sale assistance and can repair any kind of pump or injector for cars, trucks, earth moving machines, tractors and marine engines.

Our experience as well as our equipment and machinery allow us to recondition pumps and injectors for the following injection systems:
Bosch®: mechanic system, UIS pump-injector, UPS/PLD Unit Pump System Common Rail and Piezo Common Rail
Caterpillar®: HEUI, Hydraulic Electronic Unit Injector
Cummins®: Celect and ISX
Delphi®: mechanic, EUI Electronic Unit Injector, Common Rail
Denso®: mechanic, Common Rail and Piezo Common Rail
Siemens-Continental VDO®: Common Rail and Piezo Common Rail
We also offer an exchange program in our Revision Division with the customers providing the old cores or we directly repair our customers' injectors and pumps. We are available for collection of your used parts and delivery of the repaired parts through a number of selected express couriers. We provide quality services which translate in fast delivery times and excellent prices, dedicated to repair shops and retailers and distributors that work in the maintenance of diesel vehicles field.