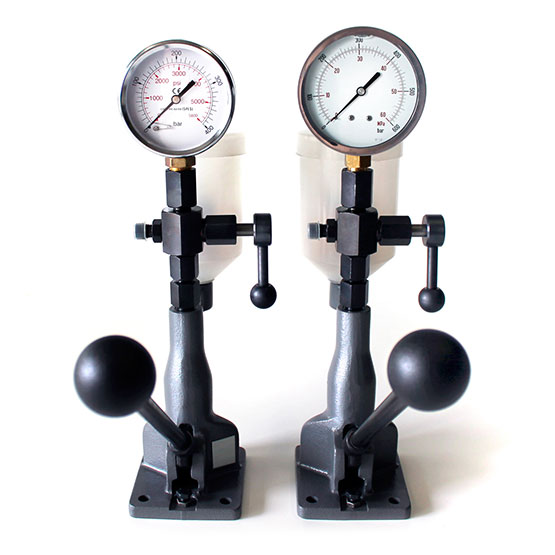 Seven Diesel SpA sells many parts for injection pumps, which include: nozzle tester and spares, nozzle shim set, pump tool kit and calibrating injectors and spares.

Nozzle testers are used to check the opening pressure of the injection nozzle size P, S and T and to carry out leakage, spray pattern and chatter characteristic tests. We can supply the nozzle tester with pressure gauge 0-400 Bar or 0-600 Bar. Both are supplied with two pressure pipes to nozzle holder, with plastic container for test oil (test oil to be used must be ISO 4113), with fine and easy to remove filter. Dimensions and weight: 46 x 20,5 x 21 cm for about 6 Kilos.

The Service Tool Kits that we offer contain the equipment for the dismantling and assemble of diesel fuel injectors, inline pumps (MW and P pumps) and rotary pumps (VE, VA, DPA, DPC and DPS pumps) Completing the line we offer ISO nozzles and other ISO spare parts fitted in test equipments. These components are made according to ISO4010, ISO7440 and ISO14681 indications.